SSL Nightmares
On a recent project our development team ran into a brick wall around mutual auth with SSL. The problem is a solved one, but Ruby's OpenSSL documentation leaves something to be desired (I'd love to pair on this, btw). I think had we had a better understanding of SSL under our belts we could have solved this without quite so much pain. Luckily, there is a tremendous amount of information out there concerning SSL. Here I want to review what SSL is, and then quickly go through the process of setting up mutual auth with Ruby.
What is SSL
Unfortunately, this topic is pretty heavy when it comes to vocabulary. For the bulk of this article I'll refer to the ruby process as the client and the service you are trying to interact with the server. Hopefully, it won't be too confusing, but if you have questions feel free to ping me on twitter (@rondale_sc) or leave a comment.
SSL is an acronym for Secure Sockets Layer, and is a way to facilitate the exchange of information securely via the exchange of keys. A typical handshake process looks something like the following: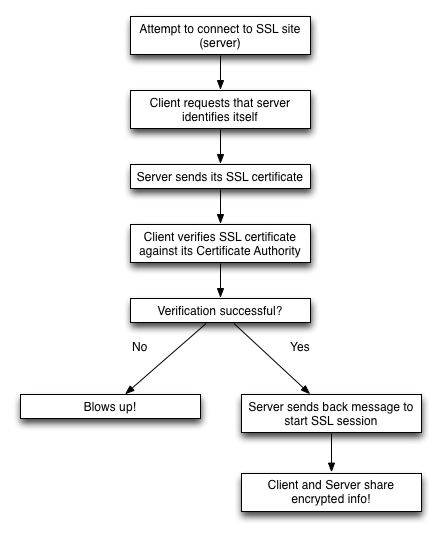 This process is something that virtually every Ruby HTTP library supports, we'll be using net-http from the standard library for the code samples in this article. The above interaction can be done in just a few lines of Ruby like so:
Many of the following examples are from a repo made by augustl named nethttpcheatsheet. This repo is an excellent resource that will be further sited at the bottom of this post.
Seems complicated, but it isn't too hard. The server will receive the client's key and certificate, this allows the server to run the verification against the certificate authority. This process is to ensure that only authorized people can access the service. Mutual auth is most often encountered when dealing with financial or health information where it is extremely important to secure services. This practice is quite often used with a self-signed certificate.
A certificate is considered self signed when the subject of the certificate and the issuer of the certificate are the same. When this is the case a certificate authority must be generated that knows about this "self signed cert". Then in order to authenticate you have to present a certificate which can be verified against this generated certificate authority (by both server and client).
Alright, that about wraps up the whirl wind tour of SSL and how to setup mutual auth. I hope if you ever find yourself banging your head against a wall this post will help. Thanks for reading!
Resources
Tweet
blog comments powered by

Disqus